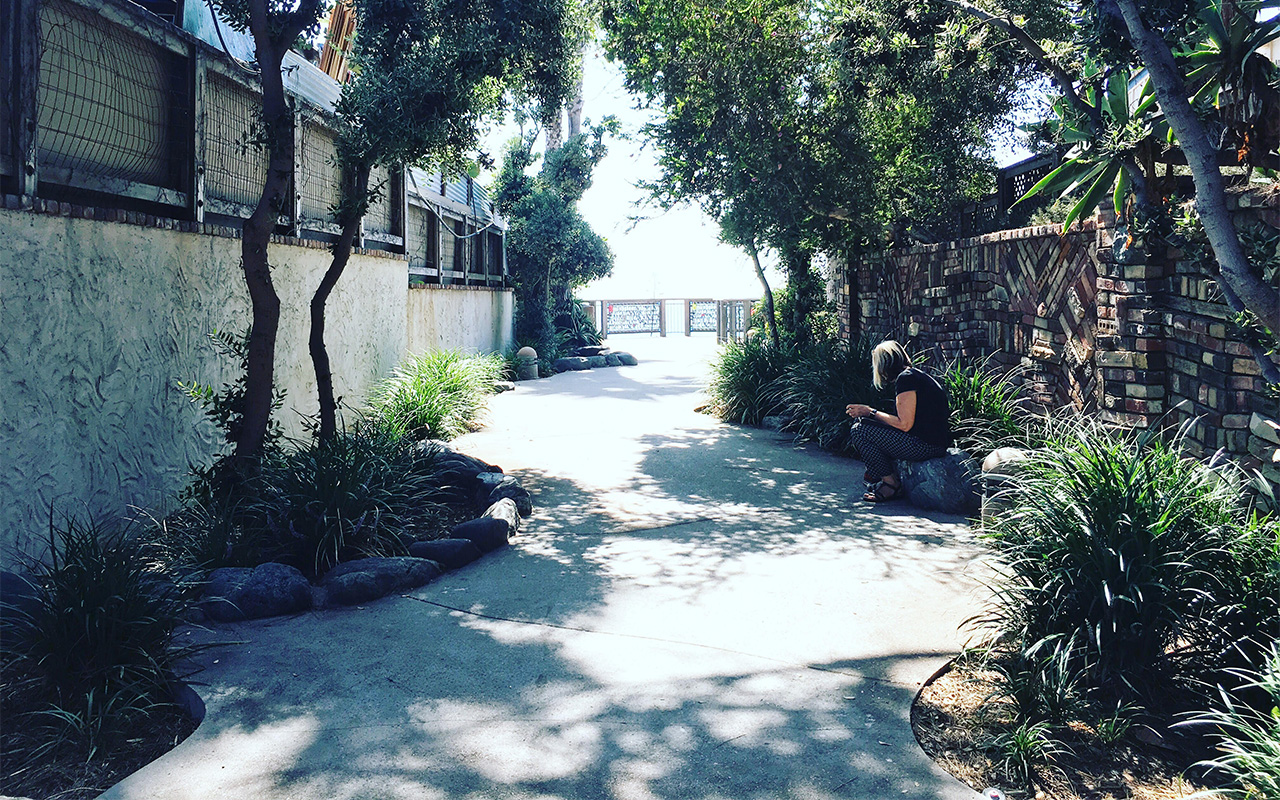 This is Brown's Park in downtown North Laguna Beach. It is an enchanting oasis tucked somewhere between Wyland Galleries and The Cliff Restaurant. It is easily missed if you're not paying attention and a pleasant surprise if you chance upon it unexpectedly. It offers another welcome break from the busy Pacific Coast Highway which is what this lady sitting on the flat-top boulder is doing, I suppose.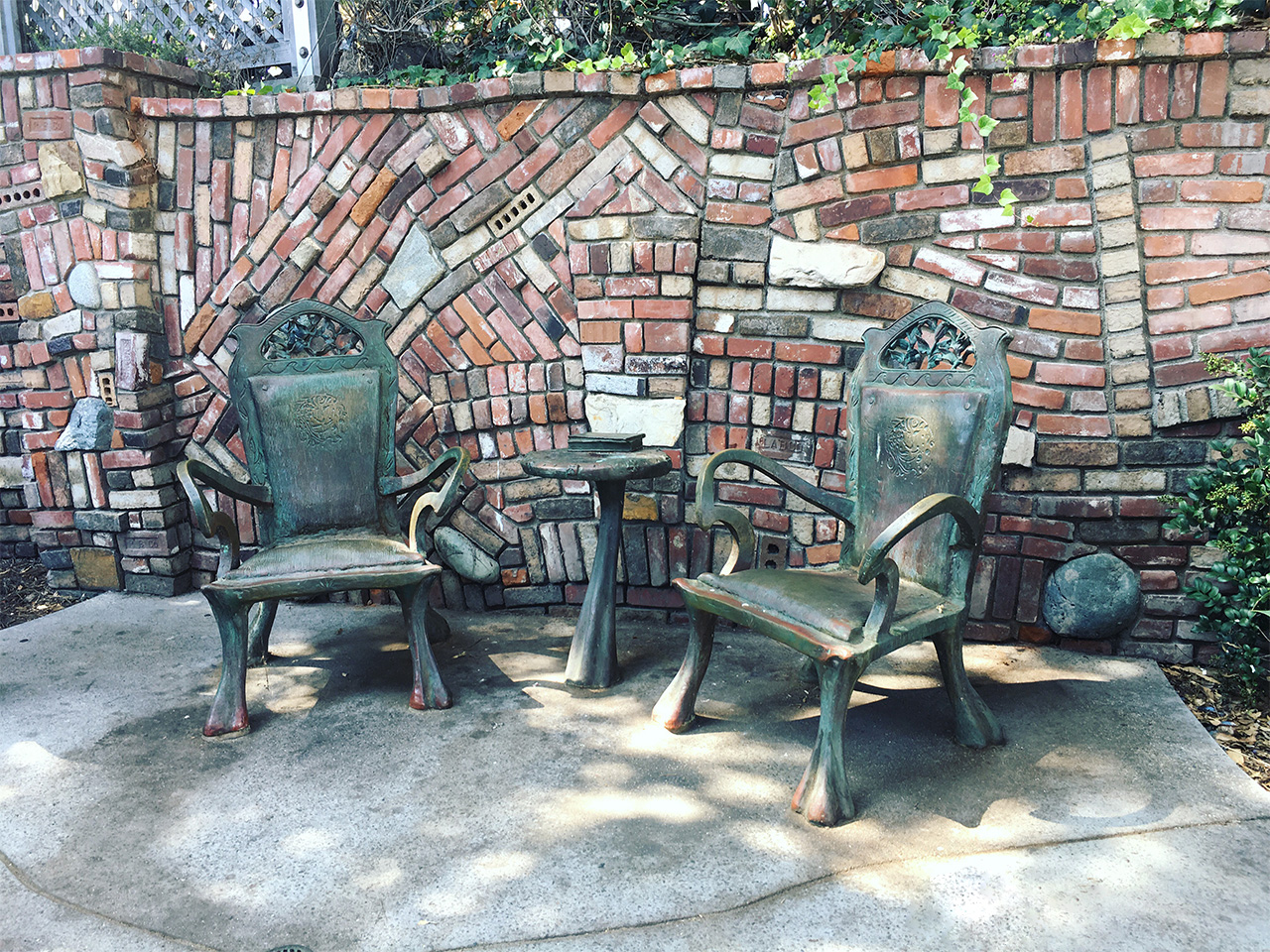 As you enter Brown's Park, you'll notice these bronze sculptures of a table, book, and two chairs. Seeing this, you get a sense that there is something special and playful about this place.
Some of the things I look out for when I go exploring are interesting patterns and textures. So how about this brick wall that borders Brown's Park? I love everything about it – the distressed colors that complement the foliage perfectly, the playfully peculiar pattern/layout of the bricks, even its juxtaposition with the cross-hatched wooden fence above.
The whimsical character of both this brick wall and the sculptures plus the refreshing, vibrant colors of the surrounding plants give this area, in my opinion, a fairytale-like atmosphere.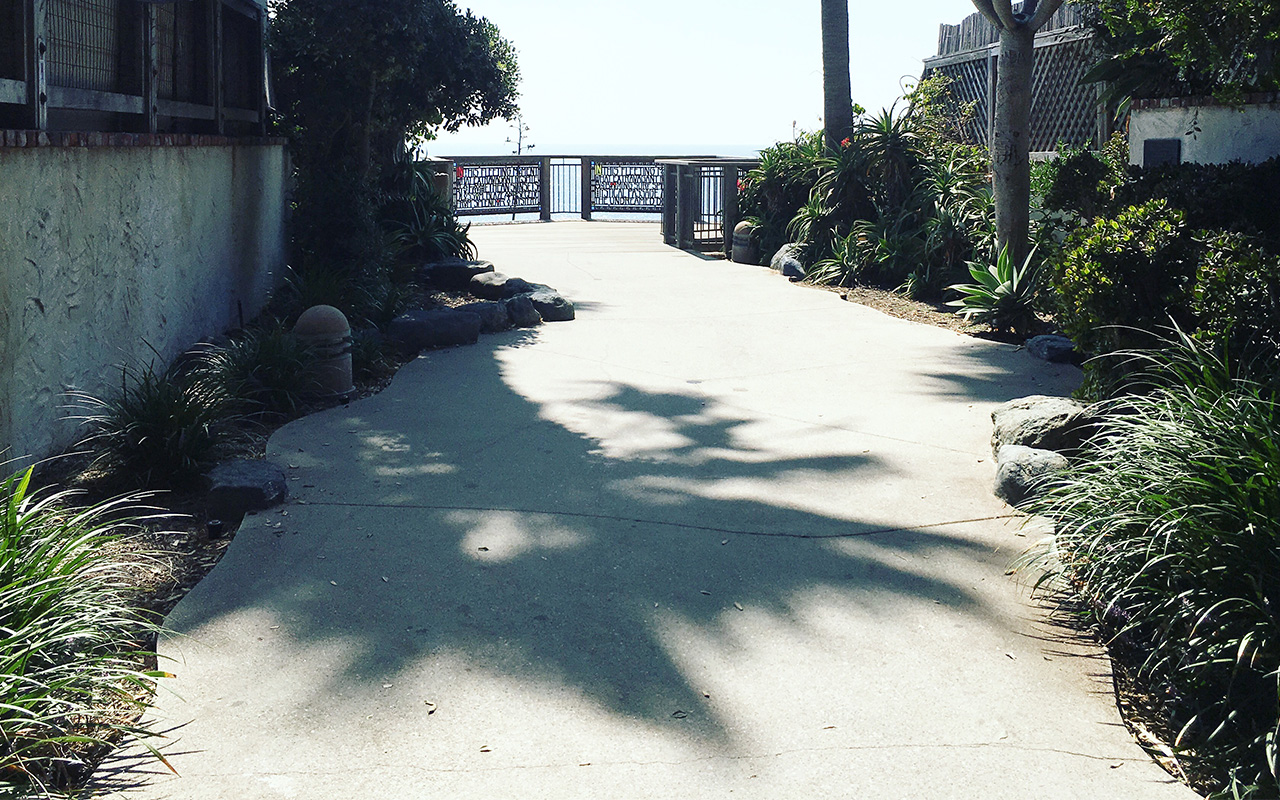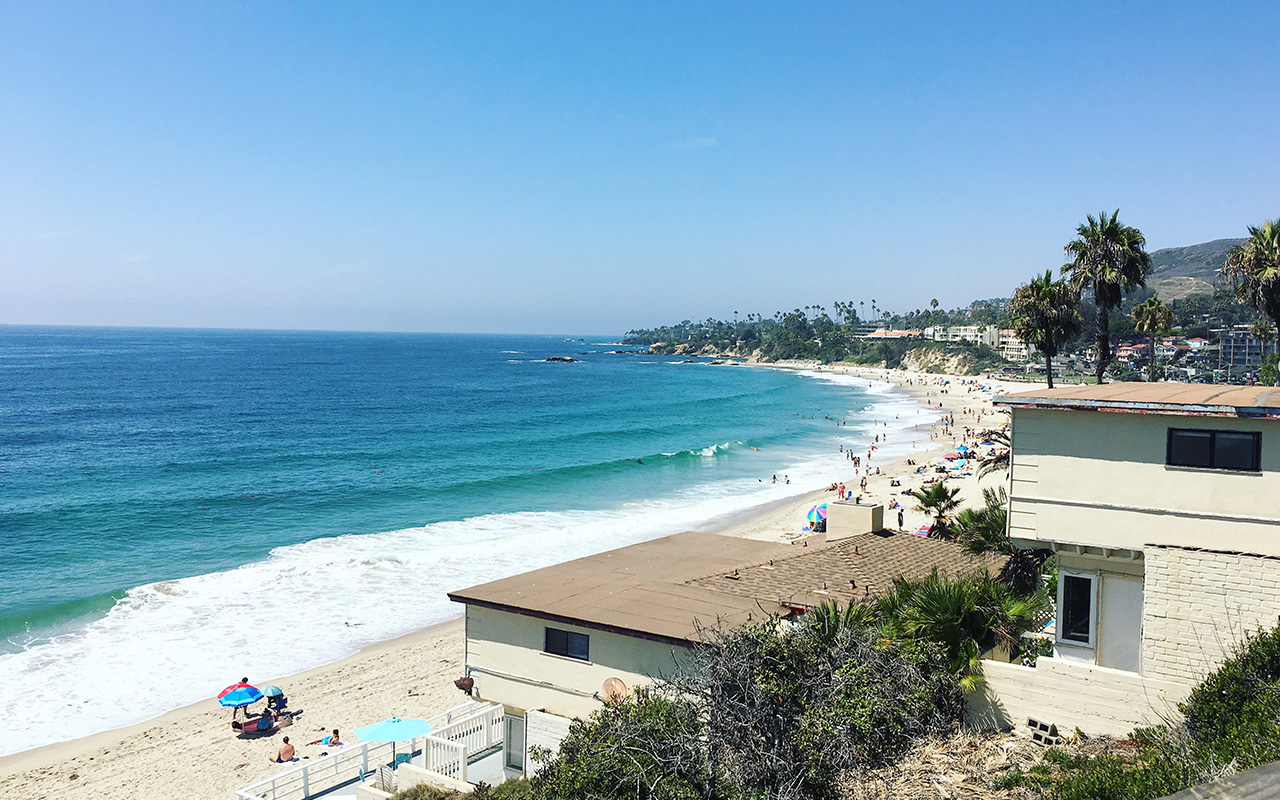 Brown's Park culminates in a view deck that offers a magnificent view of Main Beach. In my experience, it is never thronged with people so it is a great place to linger awhile and contemplate on life and the universe while you stare at the vastness of the ocean and enjoy the salty sea air.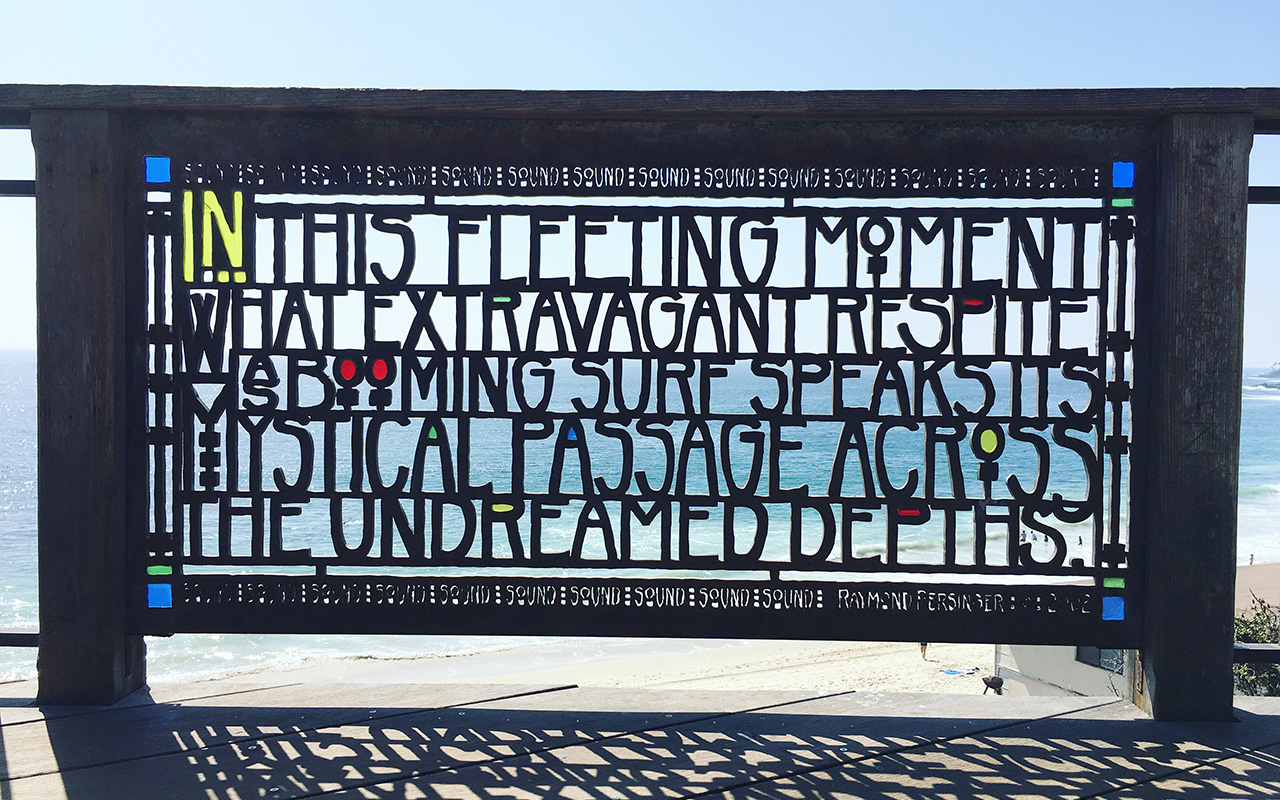 The railings of the view deck has two ironworks/stained glass art in the arts and crafts style. The one in the photo above reads: "In this fleeting moment what extravagant respite as booming surf speaks its mystical passage across the undreamed depths." The other one reads: "In this fleeting moment, what extravagant respite as promethean sunsets blossom, blaze, and secede from splendor to mystery."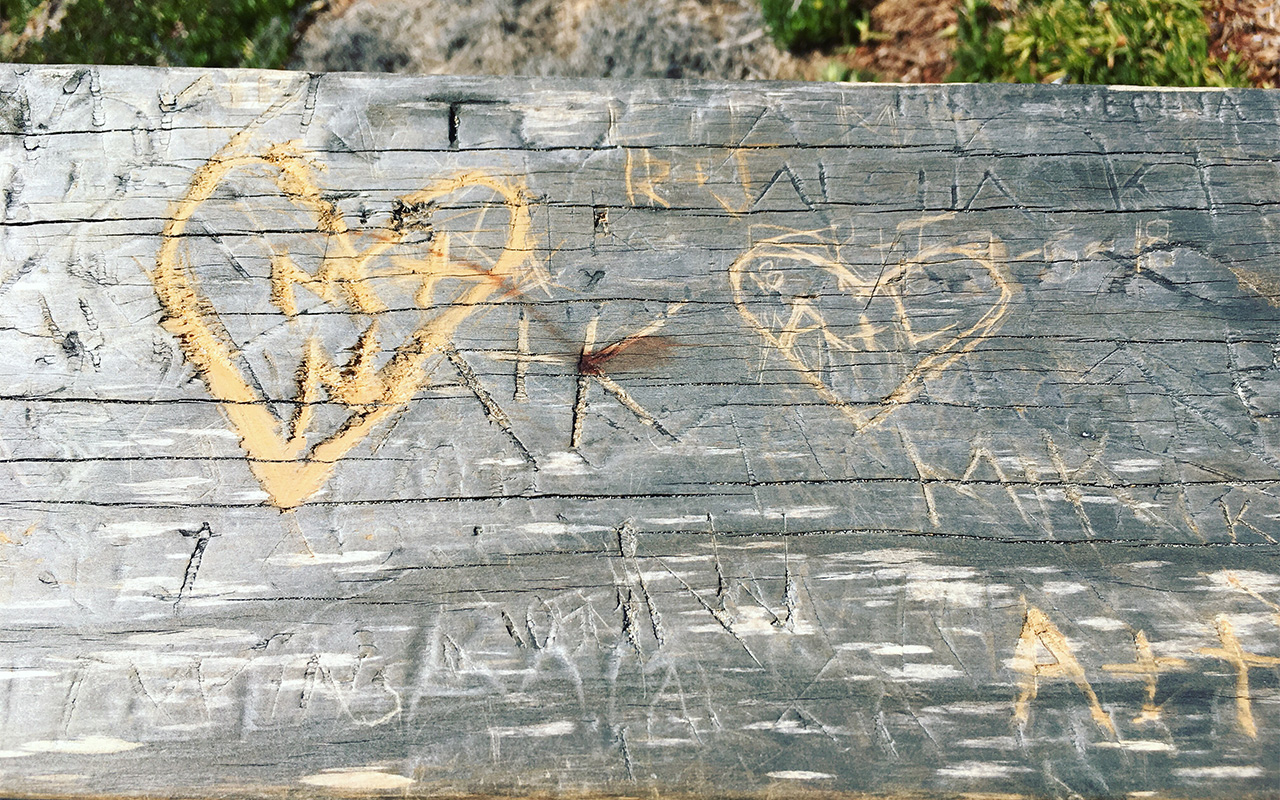 If you observe close enough, you'll see graffiti carvings on the top wooden rail – professions of eternal love, proof of mundane existence, or just plain vandalism.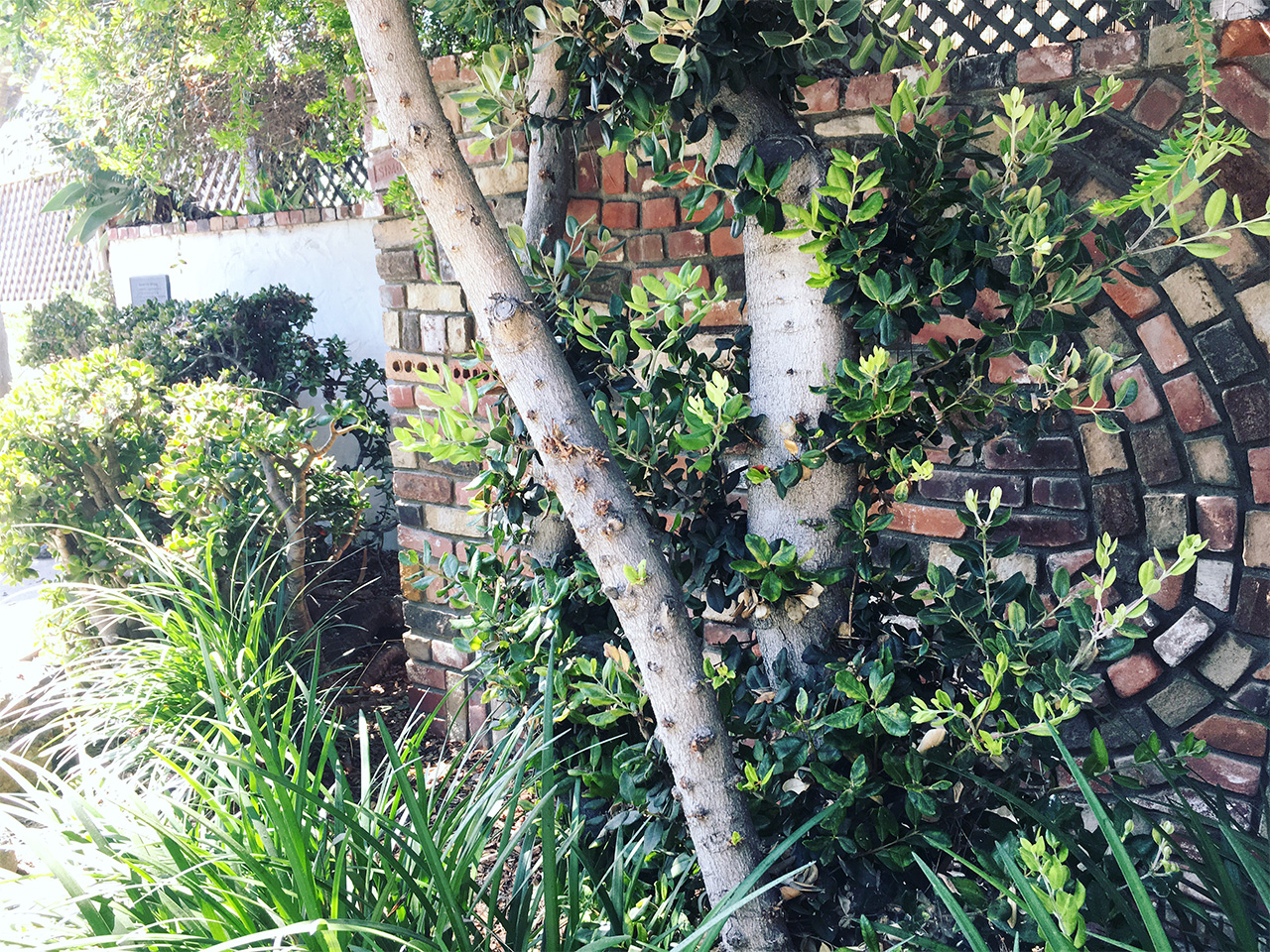 Equally magical as this seemingly unassuming place is its history. The story goes that a businessman named Charles Bergfeldt bought a 2-storey house on this spot in the 1930s. This house, which the family enjoyed for generations, was destroyed by the El Nino storm that hit the coast in 1998. Instead of rebuilding the house, Joe Brown, its current steward and the grandson of Charles Bergfeldt, decided to donate the land to the city so that it may be transformed into a small public park where anyone can enjoy the ocean views that it offers. What a remarkable story! He could easily have sold the prime seaside property for millions of dollars. Instead, he generously shared it with the public. The park opened in 2002.
A poem by Joe Brown's father is inscribed on a plaque at the entrance:
"Let me live in a house by the side of the sea,
Where men and women wander by
Where there is beauty and grace and excitement that's free
On the beach, in the sun let me lie
Let me listen to ocean's melodious roar
And its rhythm, so soothing to hear
As the foam-covered waves seem to reach for the shore
Under skies that are sunny and clear."
– Joseph E. Brown
I told Troy this story. He said "I want to do shit like that!"
---
Brown's Park, 551 South Coast Highway, Laguna Beach, CA 92651