If you're interested in learning to paint with encaustic, I am offering encaustic classes by appointment. I don't profess to know everything about the medium, but what I do know, I'm happy to share with you.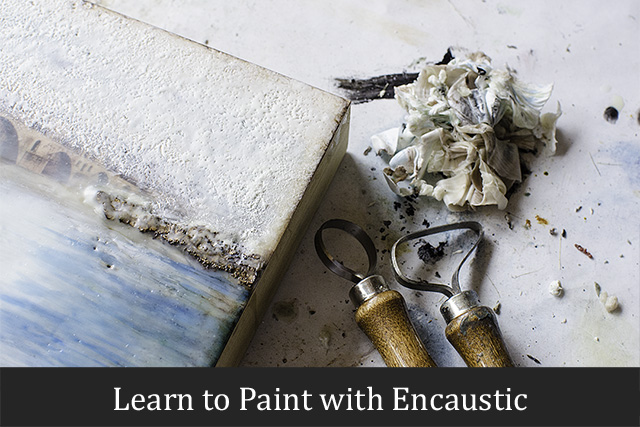 ---
If you're new to encaustic, I can teach you the essential information you need to get started and offer you hands-on experience with various techniques to create smooth and textured finishes. This is a great way to try out the medium before investing in tools and materials. Here's what we can cover in a full-day session:
1. Brief history of encaustic
2. Essential materials including brush and paint options, fusing instruments, and appropriate supports and grounds
3. Studio setup including ventilation, proper use of equipment, and safety practices
4. Fundamentals of encaustic painting including sizing a panel, fusing techniques, and applying encaustic paint
5. Encaustic painting techniques including dripping, splattering, layering and scraping, accretion, and intarsia.
For those who already have experience with encaustic, here are some "beyond the basic" topics we can cover:
1. Using oil and other media with encaustic
2. Collage and assemblage techniques with encaustic
3. Photo transfer technique
4. Photography and encaustic
5. Other mixed media techniques
Classes are held in my private studio in Mission Viejo, California. Class rates and hours are as follows:
Private Sessions (1 Student):
Half day (9am – 12pm): $225
Full day (9am – 3pm with a lunch break from 12-1): $375
Private Sessions with a Friend (Maximum 2 Students):
Half day (9am – 12pm): $180 per person
Full day (9am – 3pm with a lunch break from 12-1): $300 per person
I will provide the necessary encaustic materials, including a 6×6 wood panel so you can take home a finished project. If we're covering mixed media techniques, you may need to bring additional materials.
If you're interested, please send me an email so we can work out a schedule and discuss what topics you want to cover. Payment via cash, check, or credit card is made on the day of the session.