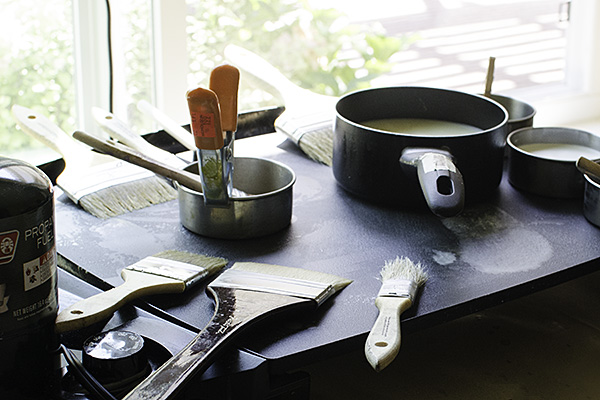 ---
Encaustic is a wax-based paint you apply hot to a surface and then reheated to fuse the paint. It is a versatile medium which can be worked on smooth or textured and can even be combined with a lot of other media.
If you're interested in encaustic but have never worked with it before, I suggest you take a live class, if possible. This way you can try out the medium and decide whether it's something you want to pursue before spending money on tools and supplies. If you live in Southern California, I offer private tutorials in my studio in Orange County.
When you're ready to move forward, this guide will help you get started on materials and setting up your studio. (Each item below includes a link to a blog post that discusses that item in detail.)
---
BASIC ENCAUSTIC SUPPLIES
The following are the essential consumable supplies you'll need to start working with encaustic:
BASIC ENCAUSTIC TOOLS AND EQUIPMENTS
The following are the essential tools and equipments you'll need to start working with encaustic:
heated palette – used to melt encaustic paint and warm brushes | learn more
flat thermometer – used to accurately monitor the surface temperature of your palette | learn more
paint cups – flat-bottom metal containers used on the heated palette to melt and hold paint in | learn more
natural-bristle brushes – learn more
fusing tool – blowtorch or heat gun | more info coming soon
scraping and mark-making tools – single-edge blades, ceramic tools (buy here), printmaking tools, etc. Explore kitchen and home improvement items for their possibility as mark-making tools.
MISCELLANEOUS MATERIALS
The following are indispensable in the studio:
nitrile gloves
blue painter's tape
paper towels
utility knife
wax paper
EXPANDING YOUR SUPPLIES
The following are not necessary to start with but are very useful to have:
electric skillet – for melting large volumes of encaustic medium and making your own medium | learn more
candy thermometer – for use with the electric skillet | learn more
ENCAUSTIC STUDIO ENVIRONMENT
The following are some guidelines for your work environment:
Make sure your worktable has enough space for your heated palette, the project you're working on, and additional materials like your torch or heat gun and other miscellaneous items.
Make sure you have proper ventilation to draw out the fumes that hot wax releases and that your workspace has an open window or door where fresh air can come in.
Make sure you have sufficient electric outlets and power supply since you may need to have a few different tools and equipments plugged in at the same time.
Keep a fire extinguisher within arm's reach at all times.
---
---
I'd love to hear your thoughts. Email me your comments here.