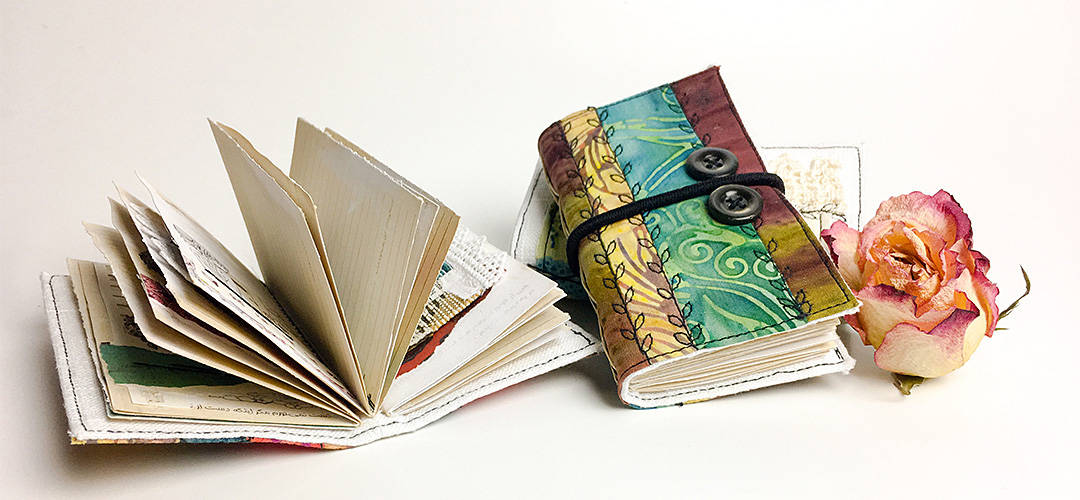 I found this small, unused, Arabic datebook in a used bookstore which I thought would be great reworked into a new handmade journal. The pages were 4.75 x 4.25 in. and made of cover-weight kraft paper, half-lined and half-illustrated. The lined half, I thought, is perfect for journaling, and the illustrated half provides space to play and be more creative with the journal pages.
I started the project by tearing all the pages from the datebook, folding them in half, and sewing along the center in groups of 3's to create the signatures. So now each half of an original page becomes one full page, with each lined half becoming a full page and each illustrated half becoming another full page.
The datebook had enough pages to make at least 60 signatures. I decided to divide these signatures to make 20 mini pocket journals. Each journal will contain 3 signatures for a total of 36 pages.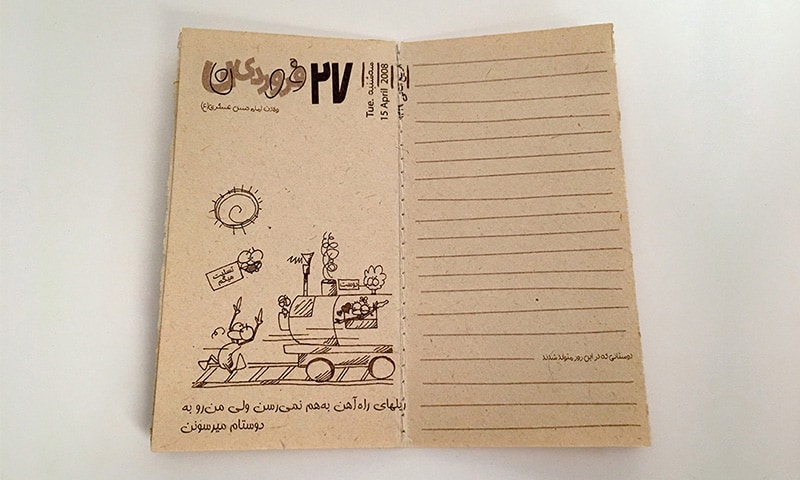 CREATING THE MINI COLLAGES
To make the journals fun and interesting, I decided to fill each illustrated page with a mini collage, taking this opportunity to use up my seemingly endless collection of small paper scraps. (Yes, I'm one of those who saves every bit of paper scraps. I'm sure most of you can relate.)
I wanted a focal point for each collage, and, when I was deciding what to use, these manga cutouts that I like to collect came to mind. You see, I like buying used manga books so I can cut out the images and use them in my personal journals. I find this a fun and easy way to add visual context to some of my journals that are otherwise simple diary entries. I keep a handful of these manga images in a tin container. These are tiny cutouts, and so I thought they would be perfect for my mini collages. The manga images I ended up using in this project are from Hidamari Sketch by Aoki Ume. Her character drawings are super adorable and the plot of the manga is interesting as well. It's about the everyday life of a group of students who go to an art school and live in the same apartment building.
So with my manga cutouts and a bin full of small paper scraps, I went to town creating the mini collages. When I was done, I had made 360 unique pieces to fill up all 20 journals!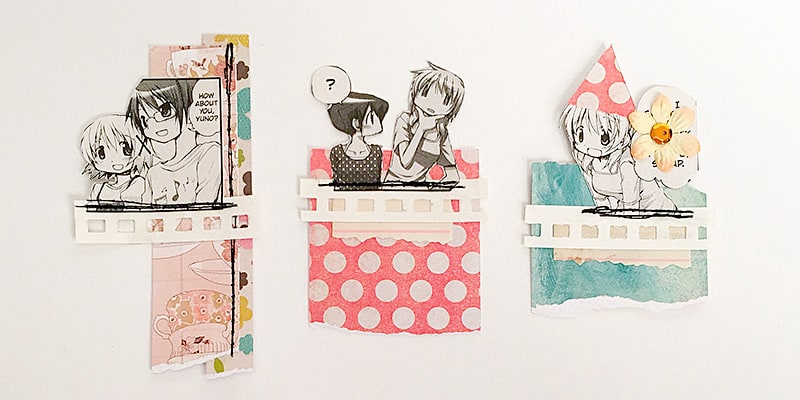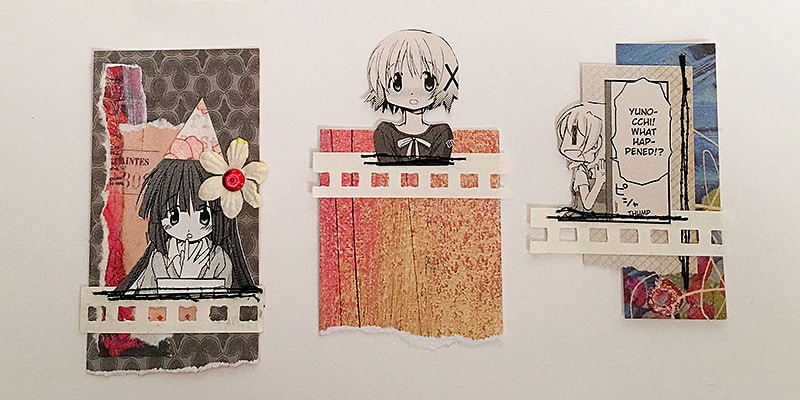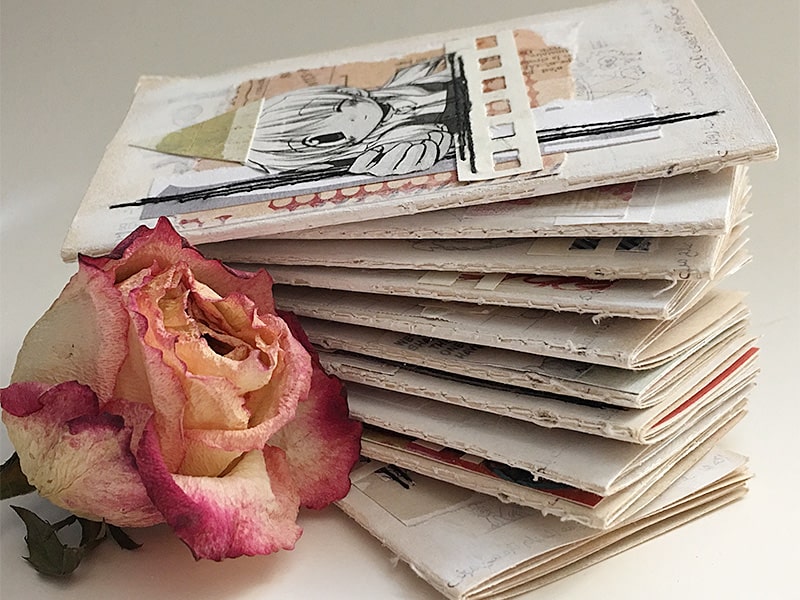 CREATING THE Journal Covers
Similar to the mini collages, the goal for the journal covers was to reduce my stash of fabric scraps. And that's how I decided to make quilt art and patchwork covers for my journals.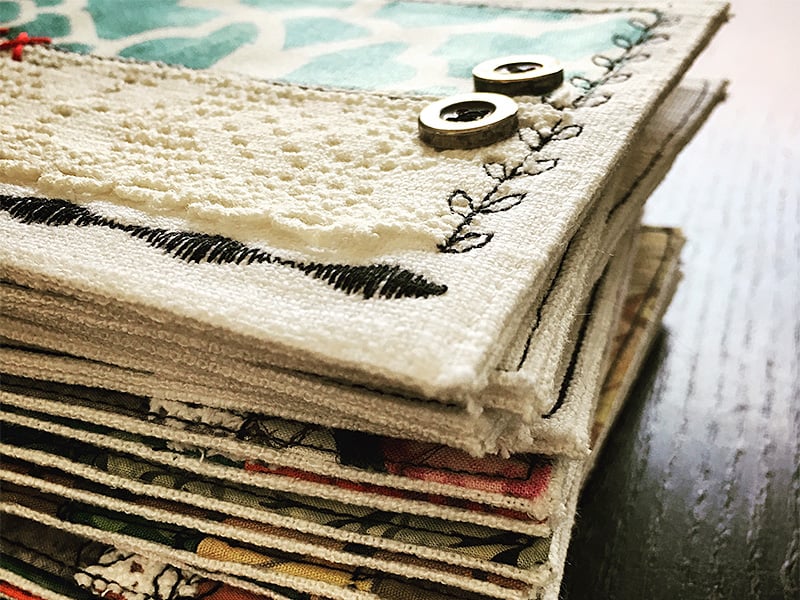 ---
Looking for more reasons to use my fabric scraps, I decided to make signature wraps for the journals. And I'm glad I did because they add another level of interest to the journals.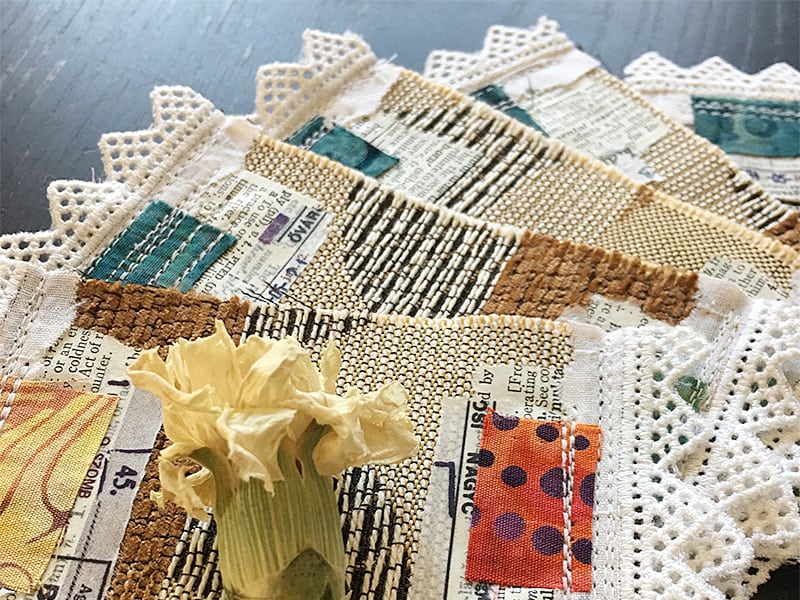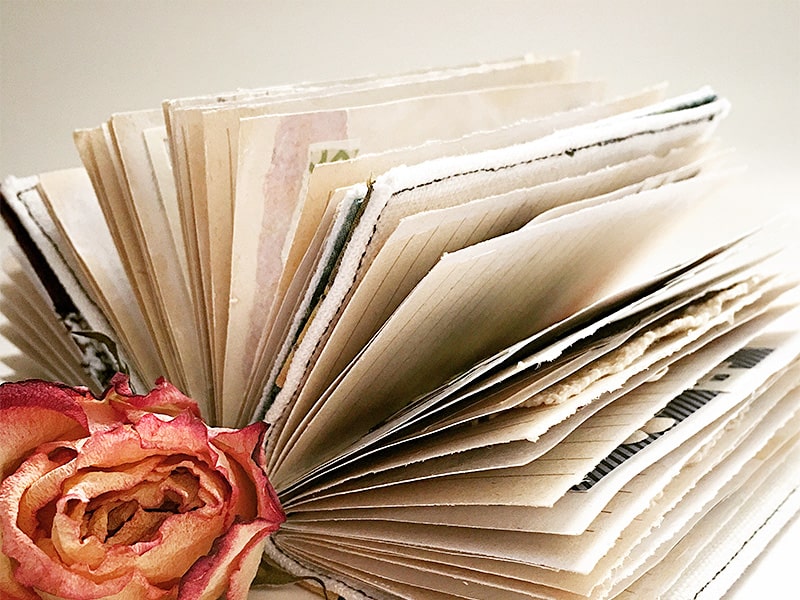 I knew I wanted to do an exposed cross stitch binding on each journal. The problem was I had an odd number of signatures. My solution was to do a long stitch binding on the middle signature and then do the cross stitch binding on top of that to secure the first and last signatures to the journal.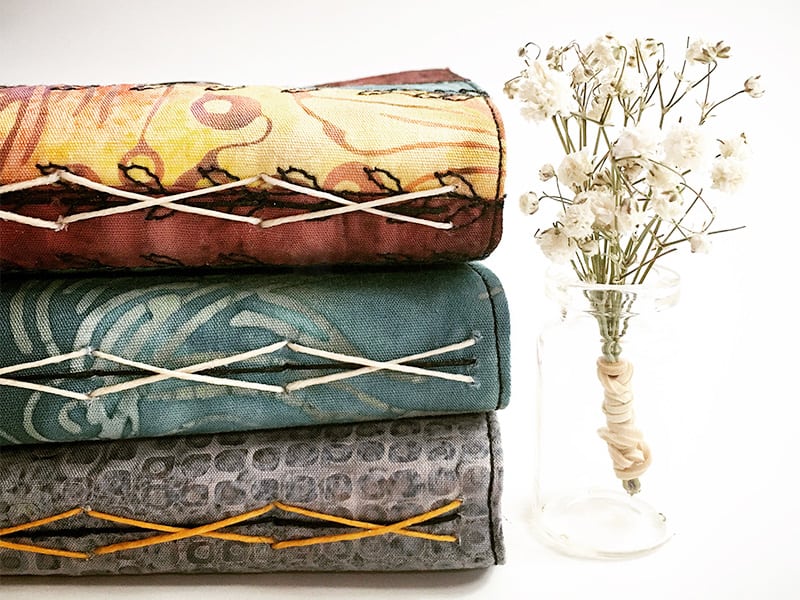 I'm very happy with how the journals turned out! Each one is about 2.5 x 4.5 in. They are super adorable and the manga images give them a lot of whimsy! I love how each journal is both an inspiration piece and an actual usable journal where you can write things down!