My friend Lar taught me how to make Vietnamese spring rolls. And my family can't get enough of it. Aside from the rice vermicelli noodles and the rice wrappers, most of the ingredients are not set in stone. You're not going to mess up if you don't add bean sprouts, for example. The amount of ingredients may vary as well. I love cilantro, so I may opt to use more cilantro than basil – although, I must admit, I love basil as much as cilantro. It's all about using ingredients you love.
---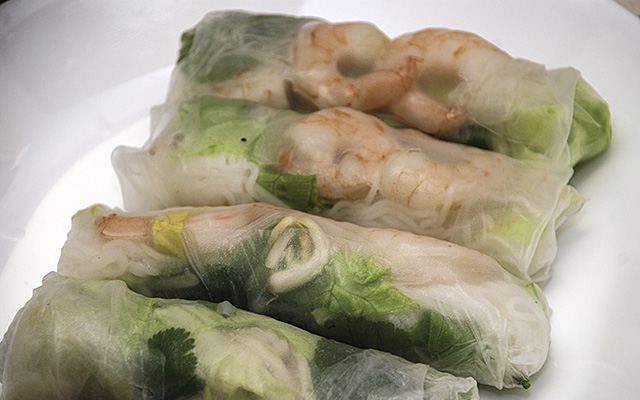 ---
I'm going to show two variations of this spring roll. One is made with shrimp because Mica loves shrimp and one is made with roasted chicken and crushed pork rinds because, well, who doesn't love pork rinds?
Ingredients:
8- to 10-oz. package of rice vermicelli noodles
12-oz. package of rice wrappers or tapioca flakes
About half a head of Romaine lettuce, roughly chopped
A handful of fresh Thai basil leaves
A handful of fresh mint leaves
A handful of fresh cilantro leaves
A handful of bean sprouts
About 3 to 4 spring onions, cut into 1-inch lengths
For the shrimp spring rolls:
½ medium-size shrimps
For the chicken spring rolls:
2-oz package of pork rinds,* crushed/ground
2 or more cups roasted chicken,** cut in cubes
For the sauce:
2 cups water
1 to 2 limes
A tablespoon or more of salt
A tablespoon or more of sugar
1 clove garlic, minced
A tablespoon or more of chili sauce
* I love pork rinds, so I probably use more than 2 oz. I also like using the salt-and-vinegar-flavored pork rinds. You can grind them in a large mortar and pestle or a food processor, if you have one.
** Leftover roasted chicken from last night's dinner is perfect for this.
Directions:
1. Cook the vermicelli noodles in a pot of boiling water for 3 to 5 minutes, or until al dente, and drain. Using your hands, pick up the noodles in small bundles and lightly squeeze them to remove excess water. Cut the bundles into thirds or 1-inch lengths, then set aside on a separate bowl or platter. (If the noodles are too hot to handle, rinse them first in cold water.)
2. Mix the lettuce, basil, mint, cilantro, bean sprouts, and spring onions in a bowl. Set aside.
3. For the chicken spring rolls, combine the chicken and crushed pork rinds in a bowl and season with salt and pepper. You can also add a sprinkling of sugar if you want to add a hint of sweetness. Set aside.
4. For the shrimp spring rolls, boil the shrimps in salted water for a minute. Drain and set aside.
5. Now you're ready to make some rolls. Fill a large bowl with warm water. Dip a wrapper in the water for a second to soften, then lay it flat on a large cutting board or any clean, flat surface.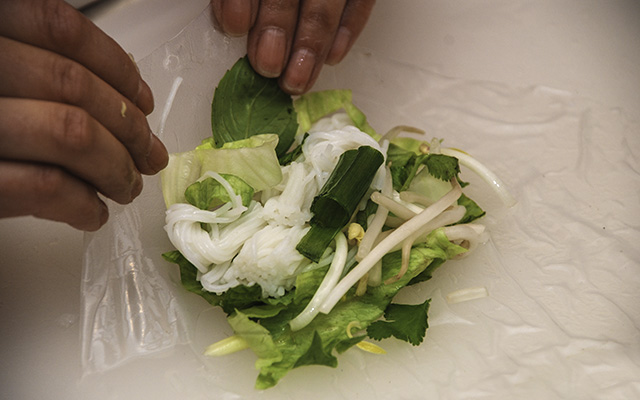 6. Place a handful of the herb-and-lettuce mixture and some rice vermicelli on the wrapper about 2 inches from the bottom. (see above photo)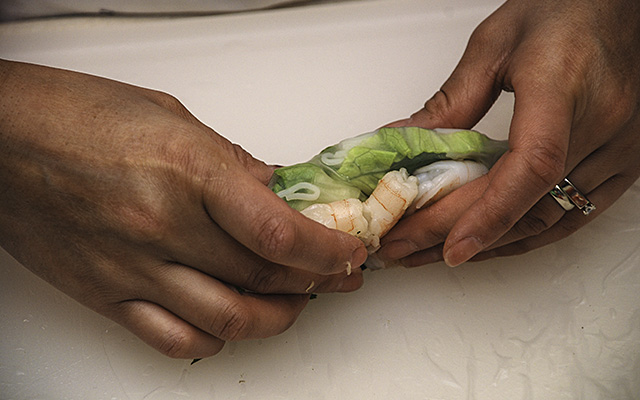 7. Fold the bottom of the wrapper once over the filling, then add 3 shrimps on top of the folded part of the wrapper (if making shrimp spring rolls) or a heaping spoonful of the chicken-pork-rind mixture (if making chicken spring rolls).
8. Continue tightly folding the wrapper until you've made a roll, making sure the sides are folded inwards.
9. For the sauce, heat about 2 cups water in a small saucepan until it comes to a boil. You are going to make a light sweet and sour mixture by adding salt, sugar, lime juice, and chili sauce to taste. Start by adding juice from half a lime and a tablespoon each of salt and sugar. Continue adding more salt, sugar, and lime, a little at a time, to adjust to your taste. When you're satisfied with the combination of saltiness, sweetness, and tanginess of the mixture, add the chili sauce – again, to taste. Then add the minced garlic and simmer for 5 more minutes.
10. Serve the spring rolls with the sweet and sour sauce.
There you go! It really is easier than I probably made it sound. I encourage you to try it. I promise you, it's great food!
---
---
I'd love to hear your thoughts. Email me your comments here.