My family lives in a small condo in a nice, quiet neighborhood. So quiet, in fact, that it can get really depressing during the winter. When we bought this place, Troy and I thought it would be the perfect transition from an apartment to a real house. We said we were just going to stay here for two years until we can relocate to that perfect place and find that perfect house. That was seven years ago.
I guess in the long, painful process of finding my place in this country, I've learned to be patient. I've accepted that you don't always get what you want – at least, not right away. And while I'm not exactly where I want to be yet, I've decided to start living. I've been wanting to redesign our place – give it more character, infuse our personalities into it – but the thought that we're going to move soon always hindered me from doing anything. What I didn't realize is that the more I put things on hold, the more in limbo I feel.
I've always been a big believer of Sarah Susanka's not so big house philosophy. And it's this philosophy that guided me in recreating our living spaces – and in the process transformed our house into a home that provides a nourishing environment for my family's creative spirits.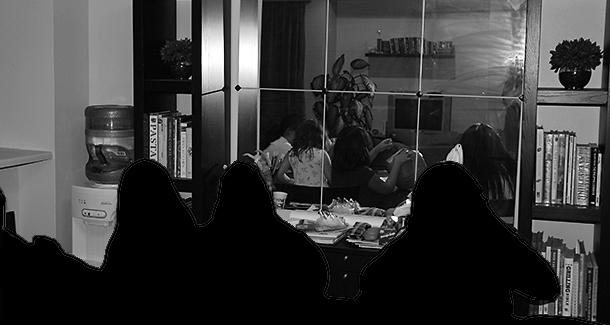 This is my before picture. It shows what the wall of our dining area looked like, and in the mirror reflection, you can see our unfinished media nook.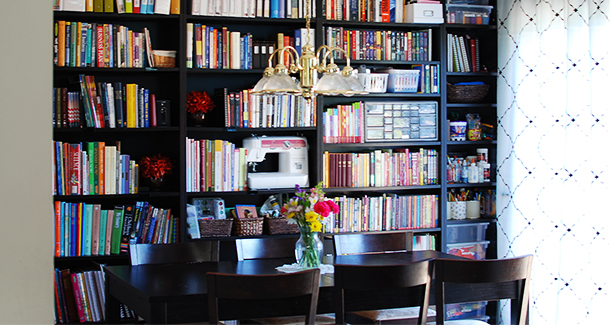 The first thing we did was line that dining area wall with bookshelves from Ikea. I love how this wall treatment reflects my childhood (I grew up in a house overflowing with books) and gives a glimpse of who we are from the books and stuff that fill the shelves.
The narrower column of shelves at the right end became cubbies for our art supplies. I made sure that Rinoa can easily grab the supplies that she uses often, like pencils, crayons, markers, and glue, so I placed them in the lower shelves. The bins at the bottom house materials for different types of crafts, like beads, stamps, polymer clay, etc. The higher shelves house the messier supplies like inks and paints. By having different art/craft supplies accessible to them, I'm hoping to encourage Mica's and Rinoa's creativity.
Initially, I was going to get rid of the two old bookshelves and buffet table that used to stand on that dining area wall (as shown in the before photo). Then I found a good spot for them, and now I'm happy with where they are. (Except for that mirror, which I'm planning to replace.)
I needed a way to visually separate the living area from the dining area without constricting the spaces, and this Expedit bookshelf, also from Ikea, was the perfect solution. It acts as a divider and provides more storage. I also replaced the curtains and I'm loving my color scheme.
At the other end of the divider is my desk. By bringing my work space downstairs, the whole first floor becomes my studio that I can share with my family.
I added a few cabinet and drawer inserts to the Expedit bookshelf. The cabinets act as the girls' lockers for school. They love it. They have this rule that they can't open the other's locker, they can only open their own locker.
I was running out of room but I managed to find a good place for my digital piano, right beside the Expedit bookshelf.
We're not done transforming our space yet, but the changes we've made so far have already contributed in making our everyday lives richer. I'm definitely much happier. Our place reflects us. Now I'm not saying I don't want to move anymore. I still do. But why wait? I've learned to work with what I have at the moment. I've learned to enjoy the journey.