Last September, as Mica entered her 6th grade in school, Troy and I took the plunge – we pulled her out from public school and started homeschooling her.
Why? Are we crazy? I must admit Troy is most of the time … but I'm not. (*grin)
We have been getting frustrated with Mica's education – she's a very smart kid but we feared that she's not being challenged enough in school. We had a glimmer of hope when she passed the entrance test to a magnet school in our area – but when we checked out the school, we didn't like where it was located. Troy and I both agreed we couldn't have Mica anywhere near that neighborhood.
The decision to homeschool wasn't a spur-of-the-moment. We've been contemplating it for a few years. And of course, we asked Mica if she's willing to give it a try. Just like us, she had to think about it – but the idea won her over.
There are so many wonderful reasons to homeschool a child but the bottom line for us is that we want to maximize Mica's potential. I especially like the concept of one-on-one instruction – this way, she doesn't have to follow the class' pace and be able to accelerate based on her rate of learning.
The process of transitioning from public school to homeschool was pretty easy:
Step 1: Research homeschooling laws in your state. Fortunately (or unfortunately, depending on how you see it), homeschooling in Illinois is unregulated. When we called the public school system to remove Mica, they only requested that we send a withdrawal letter for their records. Guiltily, I have yet to send the letter.
Step 2: Develop or adapt a curriculum based on your style of learning. We researched different homeschool curriculums available and decided to go with Sonlight. We used it for two months before we realized it wasn't for us. I wanted more structure in Mica's lessons. Then I discovered "The Well-Trained Mind" by Susan Wise Bauer and Jessie Wise. I read it and loved their teaching strategy. It had more of the formality I was looking for. So I developed a curriculum based on the book and that's what Mica is currently using.
Step 3: Prepare yourself for a most challenging but definitely rewarding journey. It has been five months since we started homeschooling. I'm definitely still overwhelmed, still anxious and fearful that I'm not teaching her everything she needs to know — but I can definitely see a HUGE improvement in Mica — to name a few: her study habits have become more efficient and her writing skills have improved tremendously. As Jesse Wise wrote in the book, "If I'd had a perfect school available, I would have enrolled my children in it. But I looked at the academic and social options, and concluded that, in spite of my failures, my children were doing better under my tutoring than they would have done in a group situation."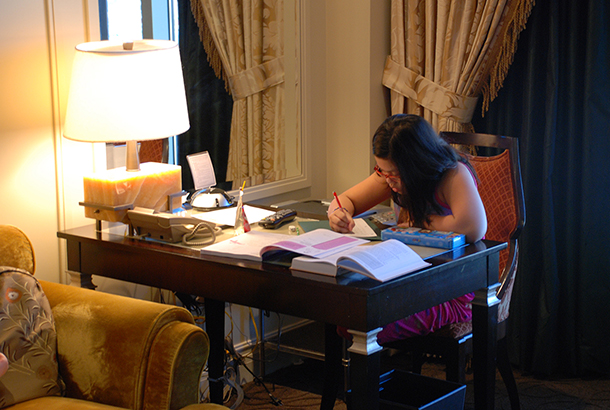 I think what Mica loves most about homeschooling is that she can do her schoolwork anywhere. In this picture, she's doing her schoolwork at the Palazzo in Las Vegas.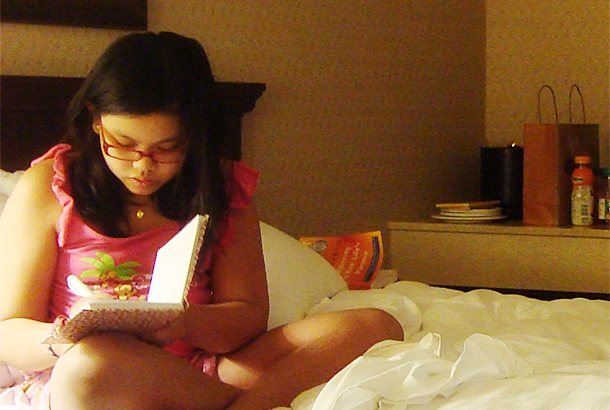 And then here, at the Marriott in Montreal, Canada.
Of course, I wouldn't let my 4-year old daughter get left behind. She, too, gets her daily dose or reading, writing, and arithmetic.