I like taking down notes when I read. I'll even write whole passages when I'm very much moved by the words. One of my favorite books right now is Mitten Strings for God by Katrina Kenison. It is about slowing down and learning to be fully present in one's life. Every word in the book spoke loudly to me. When I found a used copy of the book, I decided to create a florilegium journal. A florilegium, in Medieval Latin, was a compilation of excerpts from other writings. I started with a small blank journal and transformed it into a lovely collection of clippings from the book. (My thoughts and reflections are reserved for a different journal.) I enjoy going through the pages in the mornings to help me focus on my intentions for the day.
Here are some sample pages from the journal:
---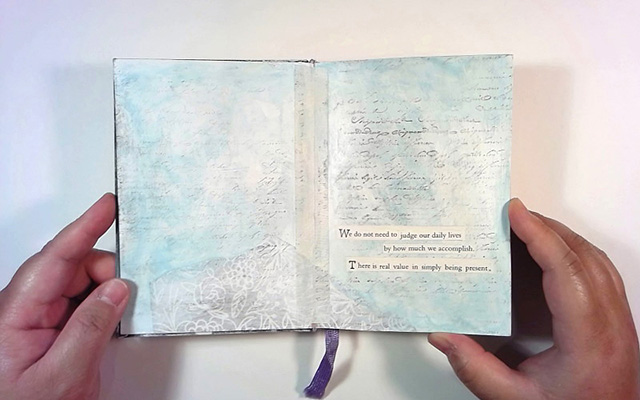 "We do not need to judge our daily lives by how much we accomplish.
There is real value in simply being present."

---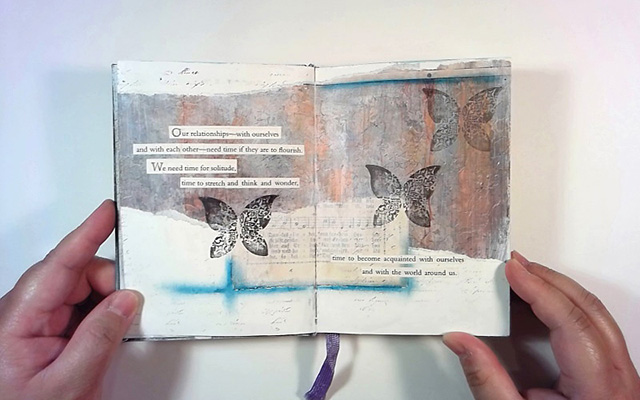 "Our relationships
with ourselves and with each other
need time if they are to flourish.
We need time for solitude,
time to stretch and think and wonder,
time to become acquainted with ourselves
and with the world around us."

---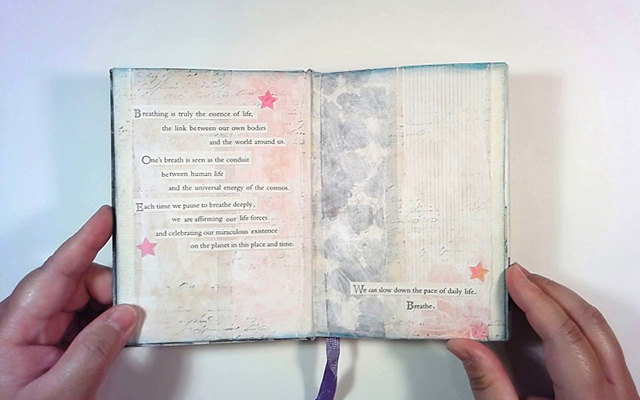 "Each time we pause to breathe deeply,
we are affirming our life forces
and celebrating our miraculous existence
on the planet in this place and time."

---
Here's a video flip through of the journal. (If you want to view images of the journal pages, you can go
here
.)
---
I took advantage of this project to use up some of the paper scraps I've been keeping. I randomly glued the scraps of paper on the pages to create my background and toned down the colors with gesso. I kept the process of creating each page fairly simple with repeating elements all throughout (mostly from the stamps and leftover stickers I used) so I can finish the journal in a week. Here's a peek at how I created some of the pages:
---
---
I'd love to hear your thoughts. Email me your comments here.