This post is the 5th part of a 2-week series about my recent vacation in New York – although during this time, I was actually in MA.
There's something serene about waking up in the early morning with the clear, unobstructed, blue sky and gentle lapping waves just outside your window. It's also interesting to observe sea life at this time – when the shoreline is still peaceful and there are no people yet to scare away the seagulls.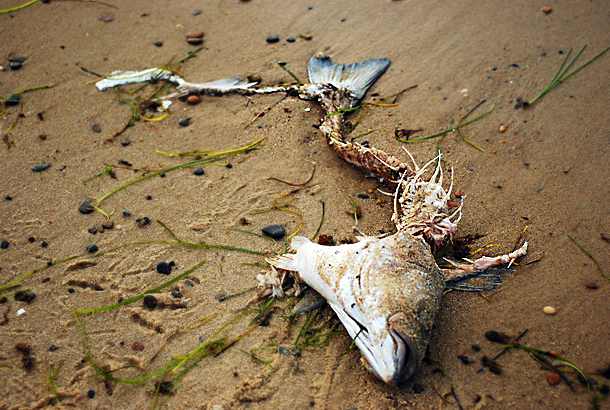 This fish was whole when it was washed ashore – and this is what was left after several voracious seagulls picked on it for breakfast. (Ok, you may find it gross, I found it interesting.)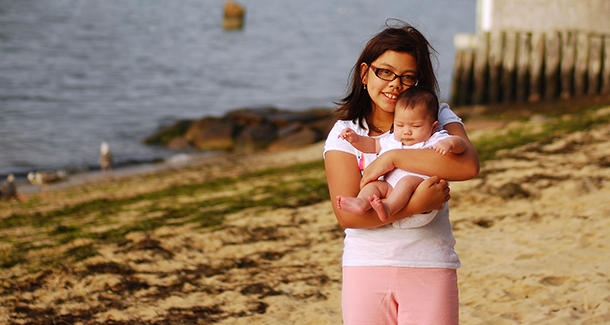 Here's Mica and Baby Jessi out on a morning beach stroll – just soaking up some healthy sun.
This was our second day at the peninsula. When the whole family was up and ready, we headed to the hotel lounge to fuel up – the hotel offered free breakfast.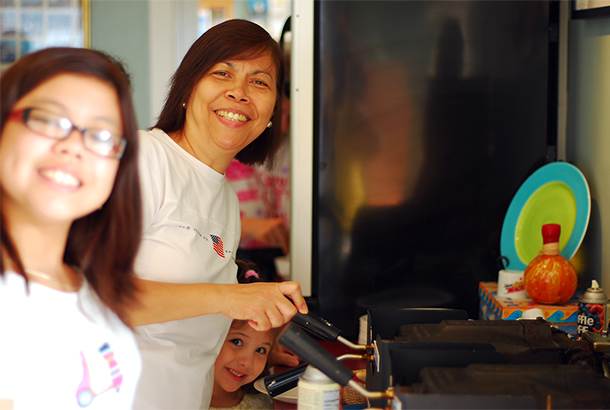 Here's my mom making us some waffles. The waffle maker is actually pretty cool. You just pour batter from a dispenser, turn the waffle maker upside down, and after two minutes on the timer – voila – you have nice crisp waffles. The challenge, I think, is doing this 6 times without getting bored. Uhh, that's one for each of us – not all for my mom – lol!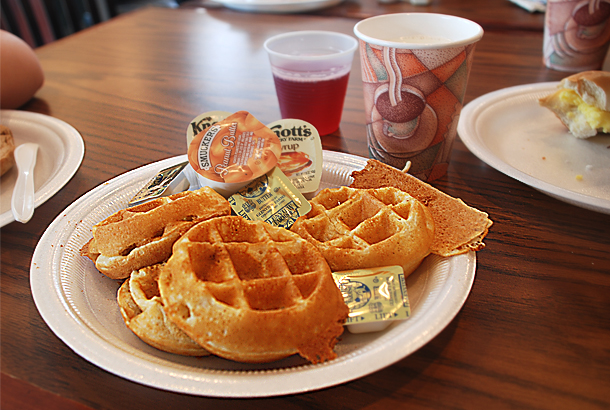 Nothing fancy. Just good ol' waffles.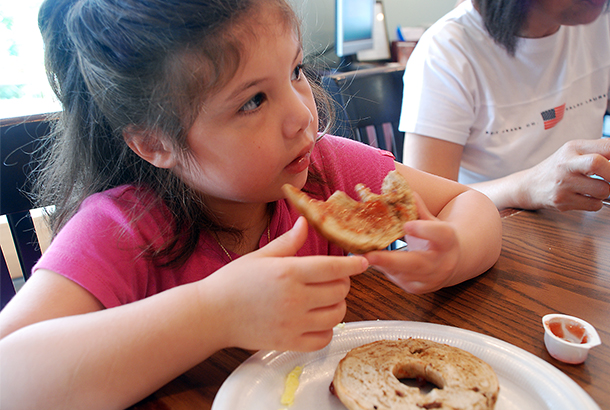 Here's Rinoa with her bagel – this is after eating her waffles.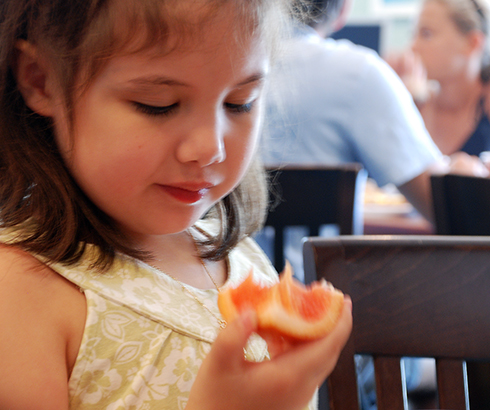 Here's Rinoa again with a grapefruit. She thought it was an orange. Imagine her surprise when she bit into that bitter citrus!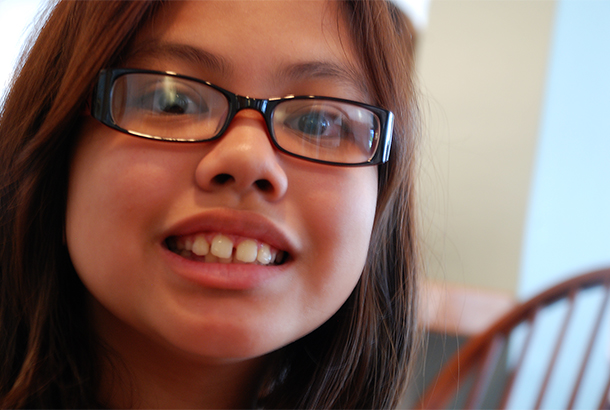 And here's Mica, just being happy. I don't know why.
After breakfast, we decided to explore downtown Provincetown – which was a mile walk from our hotel.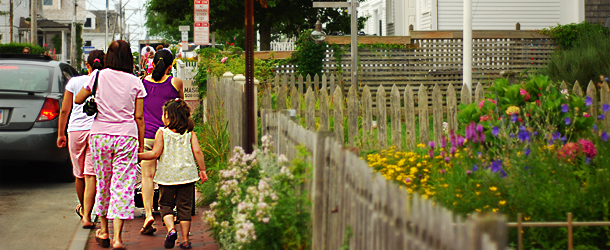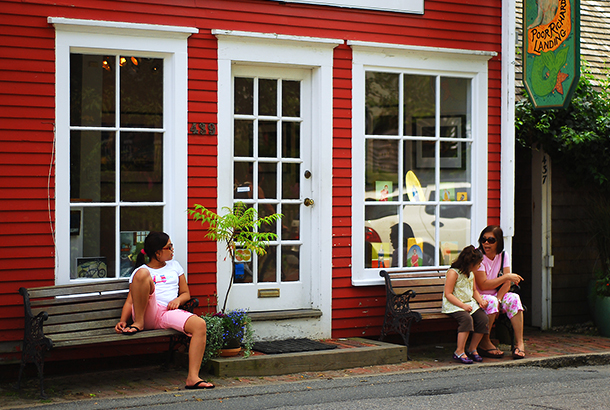 Here's Mica, Rinoa, and my mom taking a rest. (Mental note: teach Mica proper posture, especially in public!)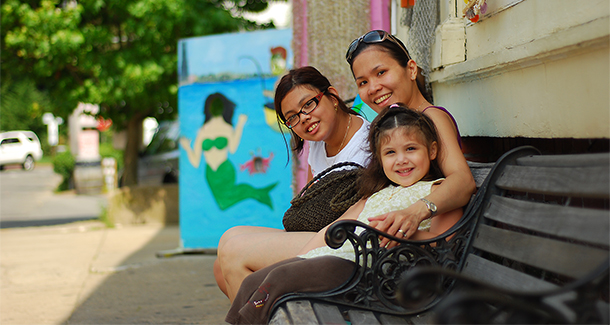 Here's Rinoa, Ivy, and Mica on another rest stop.
I've learned that Provincetown is a haven for visual artists. Lots of creative minds flock to this small town. And I'm not surprised – lots of inspiration to be drawn from this place …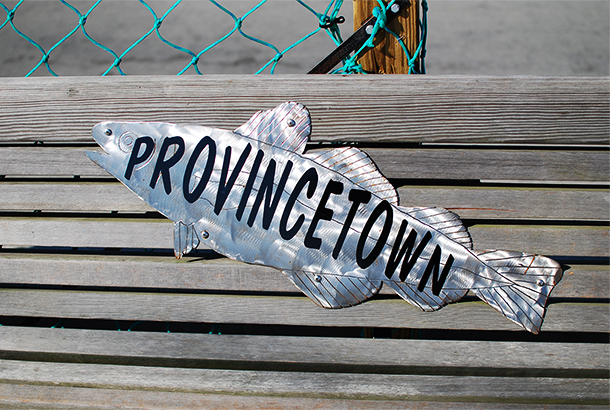 Found this fish on a bench in the harbor.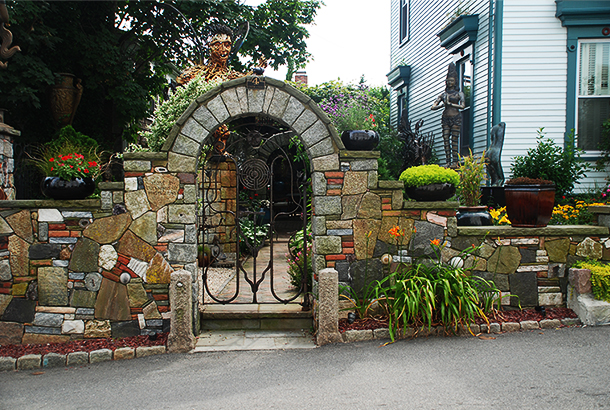 How awesome is this gate? Found this beside the Provincetown Public Library.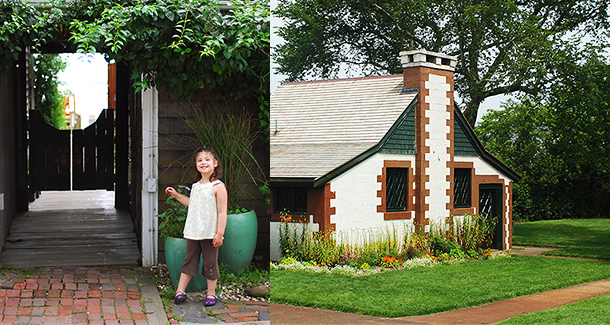 I thought the pilgrims first landed in Plymouth, MA. Apparently, the pilgrims first landed here in Provincetown – then moved to Plymouth. So the Pilgrim Monument, built between 1907 and 1910, is a tribute to this first landing of the pilgrims – although the structure bears no relevance to what it commemorates.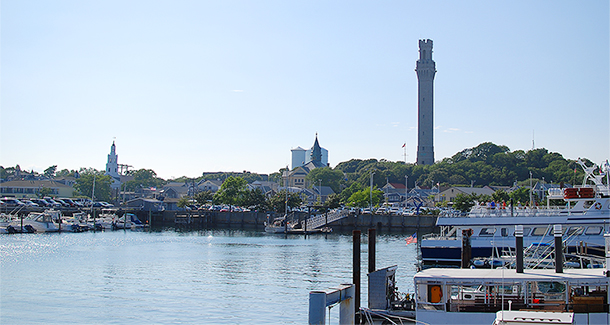 The Pilgrim Monument is the tallest all-granite structure in the US. And in Provincetown, it really stands out. Here, it is the tallest structure – period.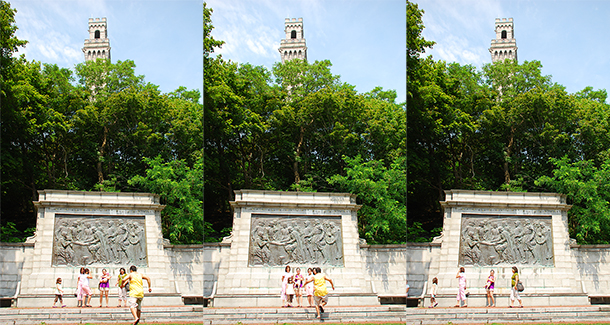 We found this Mayflower Compact bas-relief on our way to the Pilgrim Monument. Of course, we had to pose – hot scorching sun and all. My brother Jay set his camera on a tripod so all of us can be in the picture. Unfortunately, the camera was too far for the wireless remote to work. He tried to trigger the timer manually then run back to us before the shutter release. Obviously, he didn't make it the first time – nor the second time. The third time, well, we just walked away.
You bet I climbed that 252-ft tower with 116 steps and 60 ramps. Well, actually, I didn't want to – but what the heck, I was already there! Anyways, I almost died – well, ok, I almost fainted. Really! I felt my blood leave the upper part of my body – not even halfway up the tower. (For those who don't know, I have the worst acrophobia ever! – But I am willing to challenge myself to overcome it.)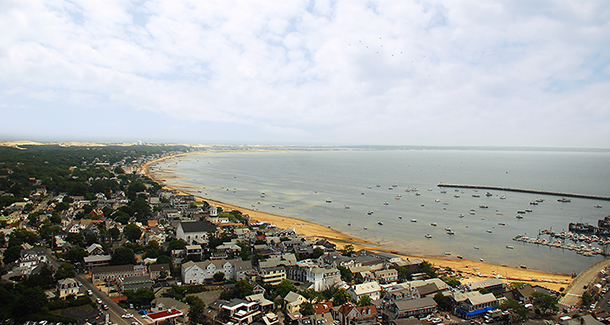 This is the scene from up the tower. I didn't take this picture. Obviously. (My brother did.) I didn't even look out at the view. I just stayed by the door that led out to the view deck, clutching the granite wall for dear life until Jay and Ivy were done enjoying the views and taking pictures.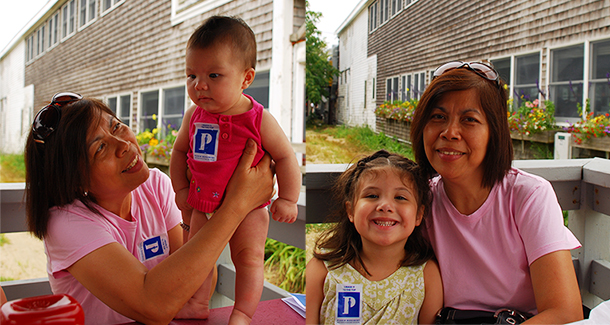 So why you ask did I really climb up the tower? To get one of these stickers that my mom, Jessi, and Rinoa have now posted on their shirts. Really. – It says "I made it to the top of the Pilgrim Monument." – lol!
It was exciting to try out some of the local restaurants, especially because there is an abundance of fresh seafood – something I crave back in the midwest. Thanks to my mom for treating us to every lunch we had at Cape Cod.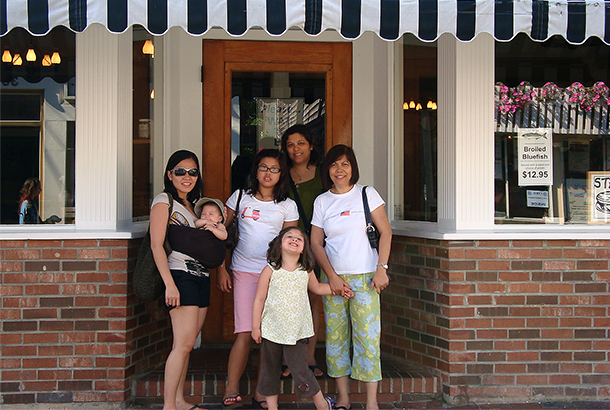 So this is us (well minus Jay who took the picture) after we had lunch at the restaurant behind us. Unfortunately, I don't remember the name of the restaurant. (I know I have to pay more attention. Should just ask my mom – she writes down everything.) I do remember we had a delectable lobster salad and a mixed seafood platter. We didn't try their Boston cream pie, even though the group behind us recommended it. We were saving room for dessert elsewhere.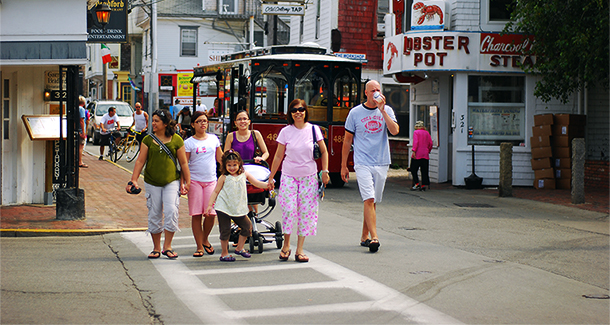 No idea who that tall, bald guy is. Sorry.
Check out on Monday as I share more of Cape Cod. If you want to read the previous posts in this series, here they are: