Christmas Pop-up Card Workshop
Hello! Thank you for joining this self-study class. Email me with any questions or concerns and use the links below to navigate between lessons:
Project #2
---
This Christmas card is actually a kirigami card – the difference being the design of a kirigami card is cut out of a single sheet of paper while the design of a pop-up card is made of several pieces that are glued or assembled together. This card is also what we call a 90° card, meaning that when the card is opened, the front of the card stands upright and the card will not open further than 90° without damaging the card. The finished card size is 5½" x 4¼".
---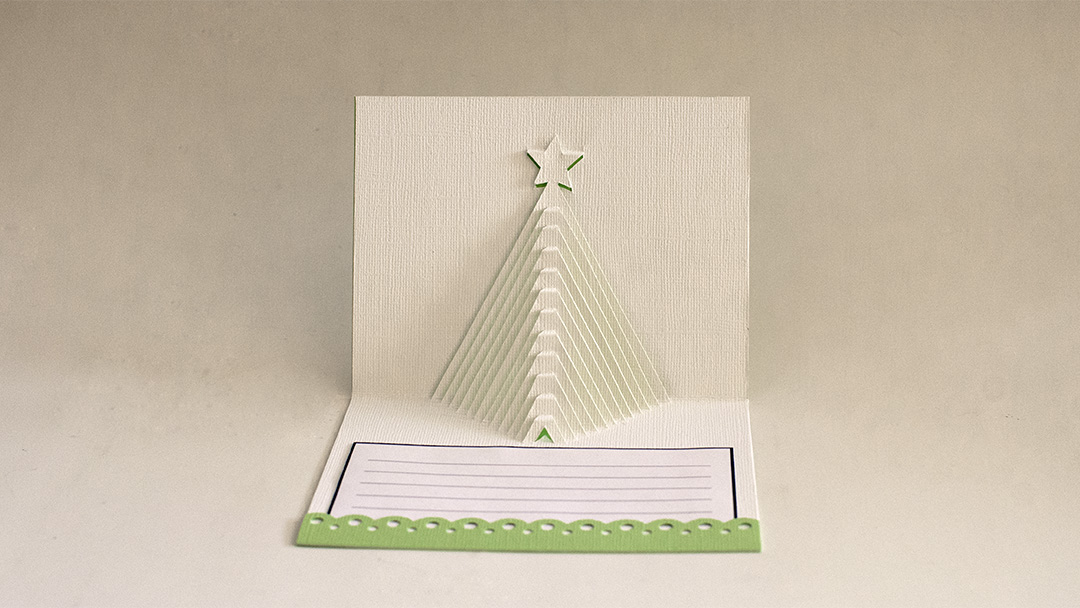 ---
Materials You'll Need
---
Paper Requirements:
1 sheet of 8½" x 11″ white cardstock paper, the pattern for the card will be printed on this sheet
1 sheet of 8½" x 5½" colored cardstock paper for the base card, folded in half crosswise to make a 5½" x 4¼" card (an 8½" x 11″ sheet of paper will yield 2 base cards)
finished envelope or 8½" x 8½" decorative paper to make an envelope
Optional Materials:
1″ strip of cardstock paper, at least 5½" long and the same kind of paper as the base card
copy paper to print the notecards on
---
Project Pattern
---
Download the pattern and print it on the back side of the paper so that the printed lines are not visible when you assemble the card.
---

---
If you want to use the same notecard I use, you can download them here. To cut out the notecards, just align your steel ruler with the tick marks on the sides and cut with a craft or utility knife.
---
Complementing Your Card with an Envelope
---
This pop-up card is a standard A2 size and it's fairly easy to find and buy high-quality envelopes for this card size. But if you're feeling creative all the way, you'll find a video demonstration on how to make an envelope in Project #3. Just use 8½" x 8½" decorative paper instead of the 12″ x 12″ paper.