Framing Guidelines for Your Encaustic Minis
The 4×4 Encaustic Minis each comes mounted on a signed 6×6 acid-free matboard. Unless otherwise noted, they are not yet ready to hang when you purchase them. To help you display the paintings properly, below are some guidelines for framing your artwork. (Sizes are in inches.)
Whether you choose a store-bought frame or a custom-made one, you can use any size frame matted for a 5×5 or 6×6 photo. Don't use a frame matted for a 4×4 photo because the actual opening would only be 3½ x 3½ — too small to show the whole artwork.
The frame should have an 8-ply (double thick) matboard to allow sufficient space between the artwork and the glass. (An 8-ply matboard has a thicker core and deeper bevel than the more common 4-ply matboard.)
Alternatively, you can use a shallow shadowbox to display your artwork, especially for encaustic minis that have more depth to them.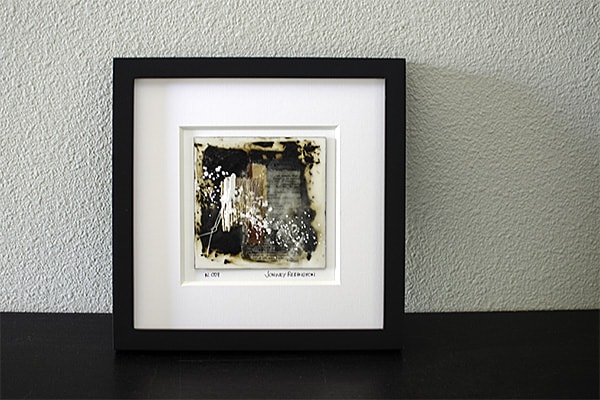 In the example above, the painting is enclosed in a classic black frame with an 8×8 8-ply matboard cut to a 5×5 opening. Frame width is 5/8″ and overall dimensions are 9×9. I bought the frame from Michael's for under $20 (in 2016). With a 50% coupon, you can get it even cheaper. It has an easel back so you can either hang it on a wall or display it on a table or shelf.
If you're more interested in a custom-made frame for better quality, a similar size will cost around $60 (estimated in 2016). Note that encaustic paintings are generally not enclosed in glass because it's susceptible to greenhouse effect which may soften the wax when exposed to prolonged extreme heat. But since we're dealing with small works on paper here, framing the paintings behind glass should be fine. Just remember not to display them in an area that receives direct sunlight (which is true for all types of painting).
Speaking of the wax softening or even melting, this is the most common fear about encaustic's perceived fragility. I assure you, unless under very extreme conditions, you have nothing to worry about. A typical indoor environment, even on a sweltering summer day, is not hot enough to melt encaustic art. It takes 160°F (71°C) for encaustic medium to melt. Under that condition, you would already be suffering from severe hyperthermia to even worry about the artwork.
Now back to displaying your artwork, below are some examples of multiple paintings displayed on a wall, for inspiration.