This is actually the recipe for Magnolia Bakery's famous banana pudding. I have never seen anyone not like this banana pudding. Even my cousin who hates eating fruit desserts love this!
---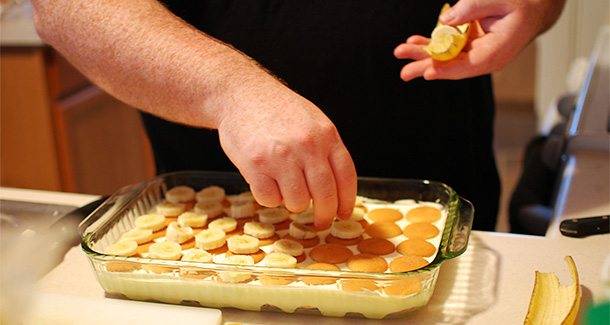 ---
Ingredients:
1 (14-ounce) can sweetened condensed milk
1½ cups ice cold water
1 (3.4-ounce) package instant vanilla pudding mix
3 cups heavy cream
1 (12-ounce) box Nabisco Nilla Wafers
4 cups sliced ripe bananas
---
Directions:
1. Mix the condensed milk and water in a large bowl until well combined. Add the pudding mix. Cover and refrigerate for at least 3 hours before continuing. (It is very important to allow the pudding mixture to set properly.)
2. Whip the heavy cream in an electric mixer until stiff peaks form. Gently fold the pudding mixture into the whipped cream until well blended and no streaks of pudding remain.
3. To assemble the dessert, arrange one-third of the wafers to cover the bottom of a wide bowl or food container, overlapping if necessary, then one-third of the bananas and one-third of the pudding. Repeat the layering two more times. Garnish the top with wafer crumbs. Cover tightly with plastic wrap and allow to chill in the refrigerator overnight before serving. (I think the longer you wait, the yummier it gets.)
Note: I often assemble the banana pudding in covered containers, making it perfect for gift giving.
---
---
I'd love to hear your thoughts. Email me your comments here.